Bridesmaid Proposal Boxes
Discover the charm and uniqueness of our Succulent Bridesmaid Proposal Boxes, the perfect way to ask your closest friends to be a part of your special day. Each bridesmaid proposal box in our collection is thoughtfully designed to blend natural beauty with a touch of personalization, making your bridal party feel truly honored.
Our bridesmaid boxes are more than just gift boxes; they symbolize growth and enduring friendship, much like the hand-picked succulents nestled inside. Alongside these delightful plants, each box can be personalized with a beautifully crafted wood card, where you can inscribe each bridesmaid's name, making it a heartfelt keepsake they will treasure.
Showing items 1-22 of 22.
How to Choose the Perfect Bridesmaid Proposal Box for Your Bride Tribe
When planning your wedding, one of the most exciting moments is asking your closest friends to be a part of your bridal party. Bridesmaid givt boxes are not just a gift; it's a symbol of your bond and the role you want them to play on your big day. Selecting the perfect bridesmaid proposal gift box can be a delightful yet daunting task. Still, with the proper guidance, you can find a box that resonates with your style and the unique personalities of your bridesmaids.
Understanding Your Bride Tribe: Matching Boxes to Personalities
The Classic Elegance Lover
For the bridesmaid who adores all things classic and elegant, consider a bridesmaid box that exudes timeless charm. 
The Trendy and Chic Bridesmaid
If your bridesmaid is all about the latest trends, opt for a bridesmaid proposal box that's chic and stylish. 
The Nature and Eco-Friendly Enthusiast
Choose a box that reflects these values for the bridesmaid who loves nature and is eco-conscious. Items like succulents, bath bombs, and natural lip balm, packaged in an eco-friendly box, make for a thoughtful and personalized proposal.
Aligning the Box with Your Wedding Theme
Romantic and Vintage Themes
If your wedding theme is romantic or vintage, select bridesmaid boxes that complement this aesthetic. Think of soft colors, lace details, and vintage-inspired items like a rose-scented candle or a classic jewelry piece.
Modern and Minimalist Weddings
For a modern and minimalist wedding, go for bridesmaid boxes with sleek designs and simple yet elegant contents. A stemless champagne glass, a minimalist jewelry piece, and a clean-scented candle can beautifully match this theme.
Boho and Rustic Chic
Boho and rustic chic weddings call for bridesmaid boxes with earthy and natural elements. Consider including a handcrafted soap, a floral bath bomb, dried florals, and succulents in a box adorned with natural textures.
Personalization: Making Each Box Special
Adding Personal Touches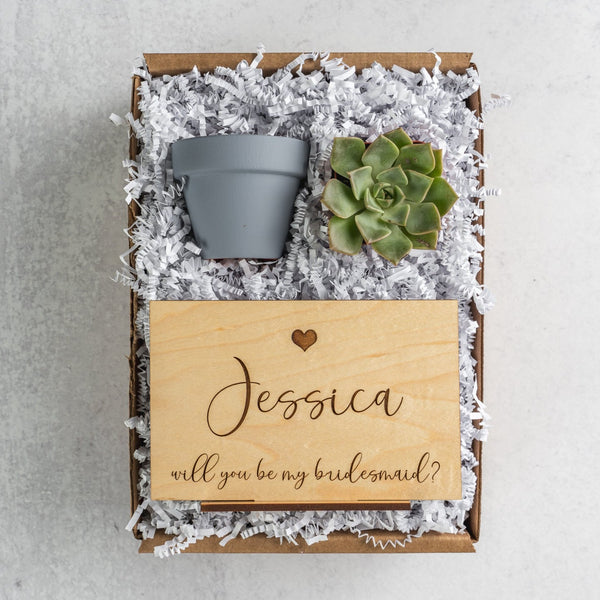 Personalizing your bridesmaid boxes adds a layer of thoughtfulness. Include a wood card with each bridesmaid's name or a personalized label. These small details make the box not just a gift but a memorable keepsake.
Crafting a Personal Message
A heartfelt note or a beautifully designed card with a personal message can make your bridesmaid feel truly special. Whether it's a funny anecdote or a sweet thank you message, it's the personal touch that counts. You can may want to consider something even more special for maid of honor gift box. 
Balancing Quality and Budget
High-End Luxurious Options
Consider luxurious options like silk robes, high-quality champagne flutes, and premium bath products if your budget allows. These items can elevate the bridesmaid proposal experience to a new level of sophistication.
Affordable Yet Charming Choices
Working with a tighter budget doesn't mean compromising on style. Opt for affordable yet charming items like a mini scented candle, a cute hair tie set, or a bridesmaid bath balm. It's all about how you package and present these items with love and care.
Bringing It All Together
Choosing the perfect bridesmaid proposal box is about understanding your bridesmaids' personalities, aligning the box with your wedding day theme, adding personal touches, and balancing quality with your budget. Remember, it's the thought and love put into each box that truly makes it unique.
Frequently Asked Questions
What to Include in a Bridesmaid Proposal Box?
Include functional and sentimental items, like a heart tumbler, a scented candle, or a heartfelt note.
How do you personalize a Bridesmaid Box on a Budget?
Focus on personalized notes or DIY items. Simple touches like a handwritten card or a custom label can make a big difference. Here are some product ideas.
When Should You Give Out Bridesmaid Proposal Boxes?
Ideally, give out the boxes soon after you've set your wedding date and started planning so your bridesmaids can mark their calendars and get excited! Definitely, be sure to make sure you ask before your bachelorette party!